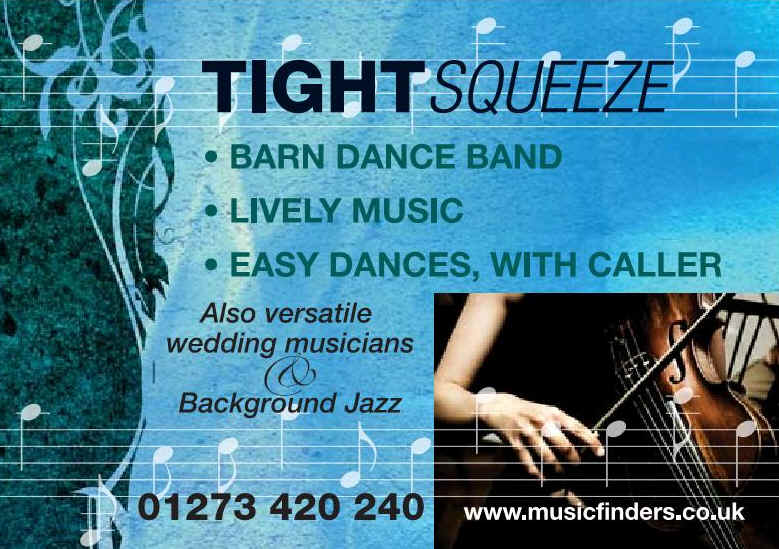 email Charlotte (07835 313513) at: musicfinders@gmail.com
See video clips of some of our ceilidhs
Looking for a Sussex ceilidh or a barn dance in Sussex somewhere? Or trying to find out more? A barn dance is sometimes called a ceilidh, ceili, folk dance or perhaps country dancing. Tight Squeeze are a barn dance band based in and around Brighton, between East and West Sussex. We are also known as the A23 Barn Dance Band.
Tight Squeeze musicians have been performing at barn dances in Sussex and the surrounding area for many years. A Tight Squeeze barn dance is, first and foremost, about having fun. A good barn dance or ceilidh caller will have a repertoire of easy dances, and will provide clear instructions for the dancers. The aim is to provide a relaxed, lively social occasion. Good barn dances and ceilidhs have a natural 'social mixing' effect which works across all age ranges. As with most ceilidh and barn dance bands, various dance tunes taken from English, Irish, Scottish and American folk traditions are the band's base repertoire. That band will vary according to the customer's budget and taste, and to the size of the event. There will usually be a fiddle and/or a squeezebox to 'lead the tunes'. The band can either play in a more 'traditional' style, or, if budget permits, we can add a rhythm section (keyboard/bass/drums as appropriate).
How does the band sound? Music samples
Frequently asked Questions (FAQs)
What kinds of events most suit a barn dance or ceilidh?
A lot of our barn dances are for weddings or civil ceremonies, but they can be appropriate for almost any social gathering such as birthday parties and social club events. They are very effective as 'social mixers'.
What age range is it suitable for?
Ceilidhs and barndances work well for all age groups. They are a tried and tested formula that has worked for centuries but is completely up to date. In a word, this is simple, robust merrymaking, which many find relaxing, and something of an antidote to the complex pressures of modern life. Even young children can join in with a bit of help from someone else. At the other end of the scale we have done several 80th birthday barn dances, and even one for a 90th birthday!
Do we need any previous dancing experience?
None at all.We believe barn dances and ceilidhs should be fun. Our callers concentrate on simple lively dances and will explain everything good-humouredly before and during the dances, If things go wrong, half the fun is sorting out the cheerful chaos that can ensue.
What sort of venue works for ceilidhs and barn dances?
Village halls can work well, or ballrooms, or hotel function rooms. A good, even floor is helpful, and safer. Just make sure you have enough space for the dancing and for people to socialise in the same room. One tip is to ask for the bar to be in the same room as the dancing - it seems to make the evening flow better.
What sort of numbers do we need?
Thirty or so upwards can work well, but if people are enthusiastic small numbers are not a problem.
How many people in the band?
There will always be a caller to explain the dances. We use varying numbers of musicians depending on the size and nature of the event and according to your budget. The band is taken according to customer requirements from a small select pool of highly competent musicians. These musicians have either been performing at barn dances in Sussex and the surrounding area for many years, or have specific skills which make them good 'dancey' players. A word of caution - barn dance bands can be of variable quality and size. We pride ourselves on the competence of our musicians and build a compact, effective team. It matters. We've seen it happen frequently that, say, one bad tambourine 'player' can take all the 'danciness' out of a band. The guests may not even realise why the evening was slightly naff and less than fun.
What about insurance and electrical testing?
Tight Squeeze carry appropriate public liability insurance and use PAT tested equipment.
Do we travel further afield to gigs?
One of Tight Squeeze's great strengths is our versatility. With the appropriate group of musicians we can and do travel to events outside Sussex. Our band members have played all over Europe, from Lille to Leipzig, Moulins to Marseilles. They have played to Euroceilidhs and to French 'bals folk' - get in touch to discuss your requirements.
Charlotte Oliver, one of our callers, has her own website.